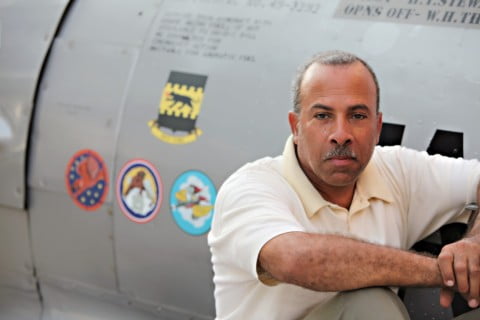 7621 LaSalle Blvd.
Detroit, MI 48206
(313) 843-8849 (h)
(313) 510-7147 (c)
brsmith@tuskegeemuseum.org
bsmith1995@aol.com
Dr. Brian R. Smith is recently retired from General Dynamics Land Systems where he was instrumental in quantifying the injury tolerance limits induced by battlefield threats such as, mine blasts and improvised explosive devices (IEDs).
His cutting-edge research in this field has influenced the design of Combat Vehicles for the benefit of General Dynamics and the men and women of our armed forces.
Dr. Smith is a community leader involved with social, historical, and educational programs. Dr. Smith is the first African-American to earn a PhD in Biomedical Engineering at Wayne State University and has been recognized as such by the House of Representatives.
Brian has been a diligent and devoted member of the Tuskegee Airmen for more than 30 years. He is the son of a WWII POW. He currently serves as President and Treasurer of the Tuskegee Airmen National Museum and is Director of Youth Programs for the Detroit Chapter of Tuskegee Airmen Inc. Brian uses his personal aircraft to support the programs and helps maintain seven aircraft at the Tuskegee Airmen National Museum.
He was a recipient of an Outstanding Civic Award from the Detroit Engineering Society, largely as a result of his work with TAI youth programs. He also initiated and coordinates with Wayne State University the Aviation Career Education Academy and has initiated a Summer Flight Academy, Detroit Tuskegee Airmen EAA Chapter 1351, Wild Blue Wonders Program and Detroit Tuskegee Airmen Glider Club.
Brian was also Director of the Content Cougars Pathfinders Club for 35 years, started and conducted a drum corps that traveled around the state leading parades, playing at rallies, basketball games, and at church events. His Pathfinders joined 36,000 other Pathfinders from around the world for a Camporee in August of 2014 in Oshkosh, WI.
Dr. Smith is prominent in the Museum's African American History and Aviation Career Week held in cooperation with Detroit Public Schools. Not only does Brian coordinate this program, but he is also responsible for raising thousands of dollars for its support.
Dr. Smith frequently lectures on the Tuskegee Airmen speaking on their formation, combat experiences and what the Airmen contributed to America during and after WWII.
Dr. Smith resides in Detroit, teaches Math, Biology, Chemistry and Physics at Wayne County Community College and has flown over 1200 Young Eagles.