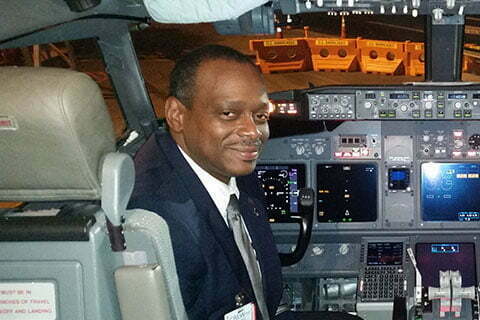 Senior Pilot / American Airlines
Captain Chris Kinsey was born and raised in Philadelphia, Pennsylvania. He attended college at Indiana State University (ISU). He graduated from ISU in 1989 with a Bachelor of Science degree in Professional Pilot Technology with ratings from Private Pilot to Flight Instructor.
After graduation, he returned home and worked for a short time as a baggage handler for Midway Airlines. Shortly thereafter, Captain Kinsey began building his flight hours first as a flight instructor at Bowling Green State University (BGSU) from 1991 – 1994. In addition to flight instructing, he worked with youth in various programs at BGSU.
Chris then went on to fly checks & freight in Ohio and Michigan from 1994 – 1997. He then began his airline career with his employment at Colorado based Frontier Airlines from 1997 – 1998.
He achieved his goal in 1998 of working for a major airline upon his employment at his current company, American Airlines. Along with single and multi-engine propeller time, he has accumulated many hours of experience in the F100, B727, B737, B757 & B767. Chris has been a Captain with American Airlines since 2015 on the B737.
Chris is married and the father of two children. He is an active member at Sunset church of Christ, Taylor, Michigan. He has continued to volunteer with the A.C.E. program since 2005. He is an active member of the Organization of Black Aerospace Professionals (OBAP). He also loves hunting, camping, and golfing.